This is an endeavor that is not possible with Mangal's effort alone. From the very beginning, several friends and supporters from different backgrounds have come together to help Mangal take care of everything outside of riding the GHT high route. Slowly a dedicated team formed resulting in our official organizing committee. The committee has so far helped in a variety of ways, for instance by securing government permits, opening personal and work networks to help find sponsors and partners, and supporting Mangal personally for his overall well-being.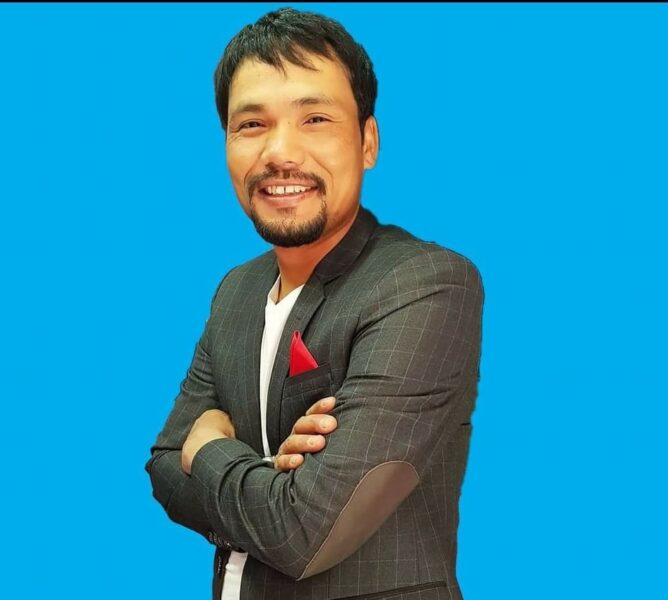 C.D. Lama Lopchan (Ralba Lama)
Chairman
Born and raised in Kavre district, Ralba has worked in the tourism industry since 1997 and has decades of experience in the social sector. He is the founder and CEO of Ralba Adventure, the former chair of Awareness for Community Development in Nepal, and a former youth leader of Religious Youth Service, a joint venture with Koika. He holds a Masters in Sociology from Tribhuwan University.
Rinzin Phunjok Lama
Vice Chairman
Rinzin Phunjok Lama is the first graduate in environmental science from Humla. He has a BSc in Forestry from the Tribhuvan University of Nepal and a Master's degree in International Nature Conservation from the University of Göttingen, Germany, and Lincoln University, New Zealand. Currently, he is a conservation biologist at Third Pole Conservancy, an NGO established to promote science-based conservation of wildlife and its habitat in Nepal Himalaya. He is also an executive member of the Nepal-based NGO Mountain Spirit. Since 2014, Lama has been actively involved in research and conservation of high-altitude wildlife in Nepal, with many peer-reviewed articles to his credit. In 2015, he won a Wildlife Conservation Network scholarship to pursue his MSc. In 2020, he won the WWF Nepal Conservation Award. Recently he has been awarded the prestigious Rolex Award for Enterprise 2021 in recognition of his effort for biodiversity conservation in Nepal's Trans-Himalaya.
Pawan Dhakal
Secretary
Born in Syangja and raised in Kathmandu, Pawan is an educator and researcher primarily working to improve the quality of education in marginalized and under-resourced communities. In the past, he has worked as an e-learning content designer at Open Learning Exchange Nepal, graduate teaching assistant at Ohio State University, and volunteer teacher and researcher for schools in Upper Mustang and Dolpo, including Crystal Mountain School since 2017. He has more than 10 years of teaching experience, and 5 years of independent research and project experience. He holds a M.Sc in Physics from Ohio State University, and a B.A in Physics and Mathematics from Dartmouth College. His main interests include theoretical physics research, education reform and local curriculum development, teaching and the outdoors.
Laxmi Shrestha
Treasurer
A resident of Kakani, Kathmandu, Laxmi Shrestha has been a primary-level teacher at Kakani Brighter School for the past 10 years, and a Montessori teacher since 5 years prior. She completed Bachelors of Arts from Tribhuwan University in 2016. A mother of two, Laxmi has received several professional training including Montessori teacher training and Tally, an accounting software. She is involved in GHT on Trails as a Treasurer.
Prasant Shrestha
Member
A resident of Panauti in Kavre district, Prasant has over 22 years of experience in professional photography in documentary films, music videos, and research areas for many NGOs and INGOs. He is the official photographer for the Election Commission in Nepal, the Nepal Ophthalmic Society (EREC-P), the World Cultural Net (China), and Kathmandu University events. He holds several honours for excellence in photography, including the ACCU-UNESCO photography competition in 2000 (Japan), Canon Photography prize in 2001 (Hong Kong), and Viewer Choice Award for an exhibition in 2003 (China). His exhibition of Changes in Panauti was showcased in 2018 at Alliance Francaise, Kathmandu. He is the chair of Pedal of Panauti, the chair of P3RAM group, and author of several books including Panauti Past and Now. He holds a Bachelors degree in Management, and a graduate degree in Oriental Medicine.
Ahmed Dulla
Member
Ahmed Dulla Nepali born 26 August 1987 is a Nepali entrepreneur, designer, motivational speaker, and an influencer. Ahmed Dulla is best known for his company The Factory Team that provides the local and international markets with hand-made designer shoes. Ahmed Dulla holds a degree in footwear technology from the Footwear Design and Development Institute (FDDI) in India. After completing his course, he was accepted as an intern at G Shoe Exports in Mumbai, India, where he gained invaluable experience on the insights of a shoe production company.
Once his tenure with G Shoe Exports was completed, Ahmed Dulla returned to Nepal with the hopes of starting his own footwear company. Upon returning to Nepal to start his own venture, Ahmed Dulla become the country's first footwear technologist. During his free time, Dulla is actively guest lectures to future entrepreneurs promoting local and hand-made products in Nepal. Ahmed Dulla can be actively seen giving guest lectures to future entrepreneurs and is constantly striving to the industry to new heights.
Zubin Niroula Khatri
Legal Advisor
Zubin is a lawyer by profession & he currently serves as the Managing Partner at Chintan Law Associates, a law firm based in Kathmandu. His area of law practice mainly covers business & commercial laws, where he specializes in foreign investments, project financing & corporate law. Apart from his legal profession, he is also active in philanthropic work, he is a Co-founder of Community Welfare Initiatives, a non-profit charitable organization currently working in rural Nepal with an objective to promote education. He loves to hike, travel & trying out different food & cuisines.
Nema Gyalpo Lama
Member
Born and raise in Nuwakot. Social entrepreneur, Director of Mountain Quests PVT.LTD. Tourism initiator, social activest, former chair of Gumbo Danda basic school, Involved 2 decades in tourism secotor
Bijay Rijal
International Coordinator
Born in Dhading, Bijaya Rijal is the Managing Director of Joy Travels and Tours. He has extensive experience leading tours internationally, especially in Thailand, Singapore, Vietnam and other East Asian countries. He has a long history of working in the hotel and hospitality industry, and has founded various related companies. He holds a Bachelor's degree in Economics, Sociology, and Cultural Tourism.
Saubhagya Malla
Member
Born and raised in Mugu district, Malla has worked in the Tourism Industry since 2015. He is the Managing Director of Smiling Rara Tours and Travel. Smiling Rara focuses on tours and treks in the Western part of Nepal.