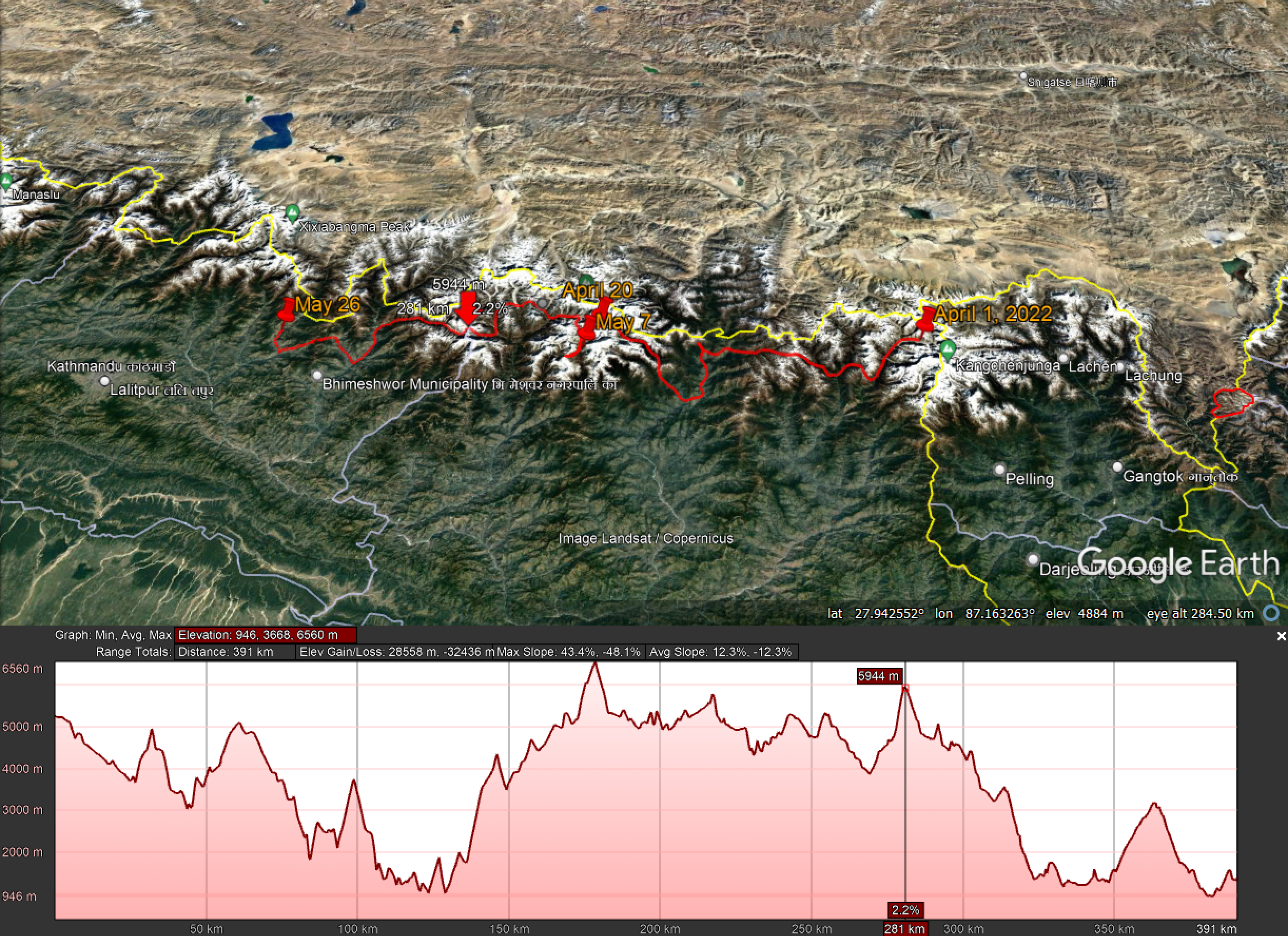 As of May 26, Mangal has completed the first three phases (38% of the journey) of his incredible, never before done, solo Mountain Biking journey across the GHT high route. Starting at Kanchenjunga Base Camp on April 1, Mangal successfully climbed—with help of a guide in technical passes– 4 major high passes (above 4500 m, 2 above 6000 m) in 20 days steadily progressing westward and finishing some of the toughest trails and passes on the entire GHT on Wheels journey. Due to an unfortunate mishap involving a porter who was helping while crossing West Col Pass (6190 m) in the Sagarmatha region, Mangal lost major equipment including sleeping bag and other essential supplies forcing a temporary halt to resupply. Mangal then resumed his journey on May 7 crossing 4 more major passes (over 5000 m) in a further 20 days ending at the Last Resort on May 26 to officially provide updates on his journey and share his experiences so far to the wider public. Mangal will resume his journey on May 30 after a press meet at the Last Resort on May 28, aiming to reach Hilsa and officially completing the first solo-ride across the entire GHT high route in the next 30-40 days.
Recent Updates
Mangal started his journey from Kathmandu on March 21, 2022 with a flight to Bhadrapur, multiple jeep rides through tough mountain roads wherever possible, and by trekking and biking wherever necessary to reach Kanchenjunga Base Camp (5160 m). After reaching Ghunsa (3520 m), Mangal began accalimitizing by riding and trekking to reach the base camp once before returning to camp at Ghunsa. Finally, on April 1, Mangal officially began the first phase of GHT on Wheels at the base camp and has since been riding or trekking based on the route condition.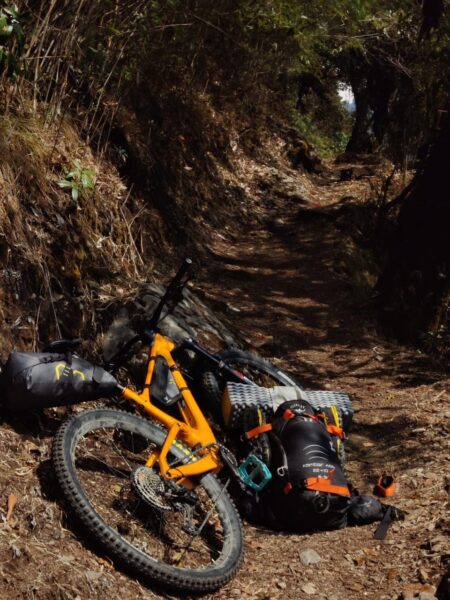 Phase 1 and 2 Updates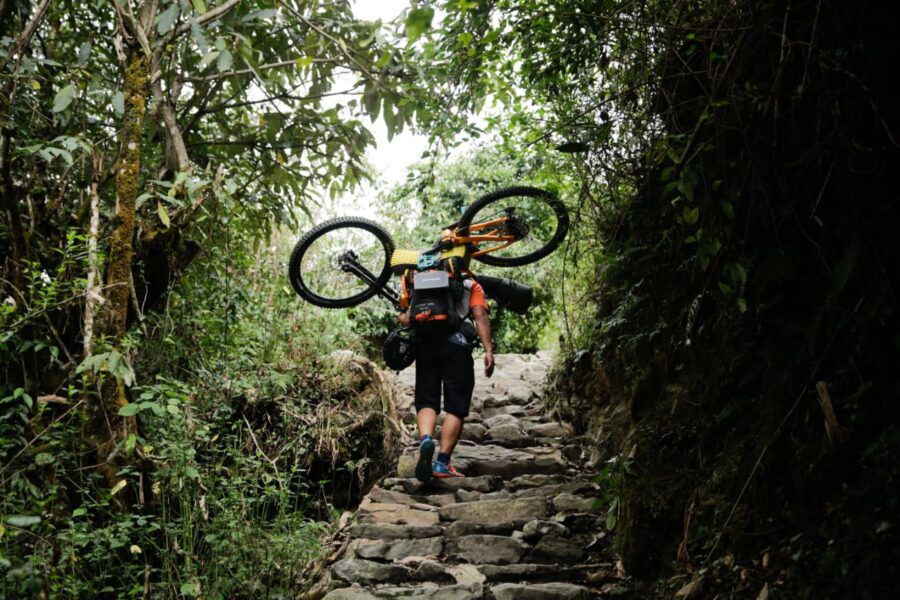 Mangal is completed Phase 1, reaching Num on April 13. He is on course to reach Thame by April 25 finishing Phase 2 as well.
Mangal has faced many challenges so far, apart from raising enough funds to cover expenses for the whole trip. Some of the major challenges so far have been:
Heavy equipment and unrideable sections: Large parts of the GHT high route are unrideable requiring Mangal to carry all his equipment including his bike (totaling to about 40 kg) and trek before finding a decent size trail that is ridable.
Weather and equipment: The weather in the eastern and central Himalayan regions in Nepal has been foggy, cold and snowy this past week adding to the difficulties of icy and snowy trails due to heavy snowfall in the recent winter. This increased the risk of getting lost over mountain passes. Mangal had one such unfortunate incident making one day a very long 12 hour walk getting back to the route. Mangal's sleeping bag (which was gifted by a friend for use during the trip) turned to be inadequate for the unexpected cold weather. So Mangal has had a couple of sleepless nights already.
Measures taken for additional safety: A local guide is meeting Mangal near Tumlingtar by next week. He will provide Mangal a better sleeping bag, food supplies, and also accompany him for a couple of days so that Mangal doesn't lose the trail over a few difficult passes in the Everest region.
Finances: GHT on Wheels is an expensive endeavor being supported by small contributions from various partners and individuals. So far, GHT on Wheels has received direct cash support of Rs. 4 lakhs from 3 partners, insurance and evacuation support worth about Rs. 50 lakhs from 2 partners, and equipment support worth about Rs. 18 lakhs from partners and individual supporters. Mangal has additionally incurred a loan of about Rs. 6 lakhs to cover expenses for essential equipment and trip costs for Phase 1. Mangal's support team is currently running a GoFundMe campaign to cover trip expenses for Phases 2-8. Mangal will need about Rs. 30 lakhs to cover the expenses which include food and supplies, and additional costs to hire guides in a few technical passes.
Follow the journey in more detail
Support Mangal and GHT on Wheels on GoFundMe
We are using the GoFundMe platform to help Mangal cover part of the project costs (see details below) by engaging with an audience worldwide. This campaign enables supporters who are able to donate online to directly contribute to GHT on Wheels and its mission.
The total estimated cost for this project is about AUD 112,700. About 90% of the costs include equipment, insurance and bike-riding/travel costs (including food supplies) during Mangal's ride. So far 69% of the total cost has been raised through direct financial support (of about Rs. 5 lakhs), donations of equipment, and in-kind support by partners for insurance and evacuation costs. This campaign on GoFundMe will contribute to the remaining 21% of the total costs.