My Story
Namaste! I am Mangal Lama, a professional mountain biking guide and former racer from Kathmandu, Nepal. I fell in love with mountain bikes and nature ever since I first encountered bikes as a repair and maintenance staff at a mountain biking tour company at the age of 19. Despite minimal pay of $15 per month as a staff and assistant guide, I continued to pursue my newfound passion with great interest and hard work. I participated in local mountain bike races while working my job, eventually competing in major national and international mountain bike races and winning 10 titles over the course of a gratifying 10 year professional racing career. During and after my professional career, I continued to pursue my love of mountain biking and share it with others as a freelance mountain biking guide leading trips all across Nepal and in major regional destinations abroad.
10
years of competitive racing
22
national and international races
10
career titles
10
years of national and international guiding
My Dream: GHT on Wheels
Over the course of my life's journey as a mountain biker, I have grown to deeply appreciate nature and my place in it. I have also learned about the imminent dangers of climate change, especially in our dear Himalayas — home to and vital for the survival of billions of people. I have seen firsthand the struggles of various indegnious communities that live in highly eco-sensitive regions across the Himalayas. Mountain communities in Nepal continue to struggle to recover from the not-too-distant 2015 Earthquakes, seasonal floods and landslides, and more recently from the ongoing Covid-19 pandemic.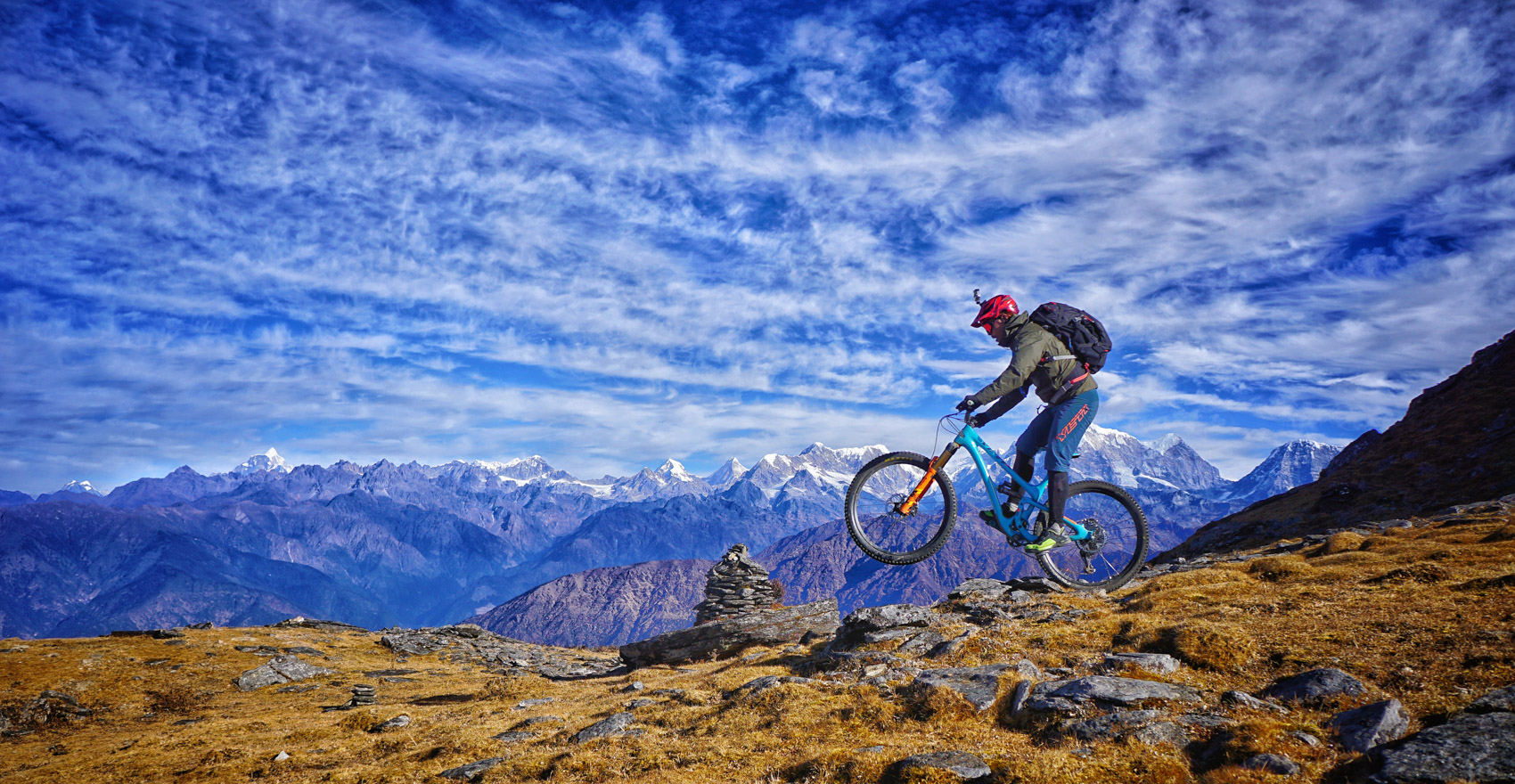 Like many around the world, as I continued to be locked-down at home due to Covid-19, I grappled with a number of these thoughts and strongly desired to be helpful to the communities and to nature that has given me all I have ever needed. Thus came the thought of #GHTonWheels, a dream project I had ever since I learned of the Great Himalaya Trail. I decided then to pursue my dream project with the motivation to give back to the trails and the people. I am thankful to all friends and well-wishers who pushed me to pursue my idea, and who have helped define some of the major scope of #GHTonWheels.
Let's ride the GHT on Wheels!
Racing Experience
| | | | |
| --- | --- | --- | --- |
| RACE | DATE | LOCATION | POSITION |
| Kanchenjunga Mountain Bike Expedition Singles | 2008 | Sikkim | 1st |
| Kanchenjunga Mountain Bike Expedition Team | 2008 | Sikkim | 1st |
| Bagmati Eco Challenge | 2005 | Kathmandu | 2nd |
| Kathmandu Mountain Bike Race | 2015 | Kathmandu | 2nd |
| Nepal Mountain Bike Championship | 2015 | Kathmandu | 2nd |
| Damauli-Bandipur Race | 2007 | Tanahun | 3rd |
| Nepal Mountain Bike Race | 2008 | Kathmandu | 3rd |
| National Mountain Bike Championship | 2009 | Kathmandu | 3rd |
| Third Yak Attack | 2009 | Annapurna | 3rd |
| Fourth Yak Attack | 2010 | Annapurna | 3rd |
Skills & Interests
Adventure Photography and Filming
Tourism and Mountain Biking Development
Sustainable Development and Climate Awareness
Outdoor Education Promotion in Schools
Entrepreneurship Promotion in Rural Mountain Communities
Certifications
NOLS WMI Wilderness First Responder 2016 by NOLS USA
MTB Leadership Course 2013 by British Cycling Association
Wilderness First Aid Course 2011 by Initiative Outdoor
First Aid Course 2011 by Exodus Travel Company
First Aid Course 2008 by Nepal Red Cross Society Trekking: Everest Region, Annapurna Region, Langtang Region, Upper Mustang